Regular price
$230.00 USD
Regular price
$240.00 USD
Sale price
$230.00 USD
Unit price
per
Sale
Sold out
The TC002 thermal imaging camera for smartphones provides top-notch accuracy for temperature detection, insulation inspection, and circuit board inspection. With an ultra-high resolution of 256x192, the TC002 delivers clear and detailed thermal images. It offers a temperature detection range of ±3.6°F(2°C), with an accuracy of 0.1°C; and with its low power consumption of 0.35W, you can use it for extended periods of time without worrying about running out of battery. The high heat sensitivity of 40mk allows for precise temperature changes to be sensed.
Share
View full details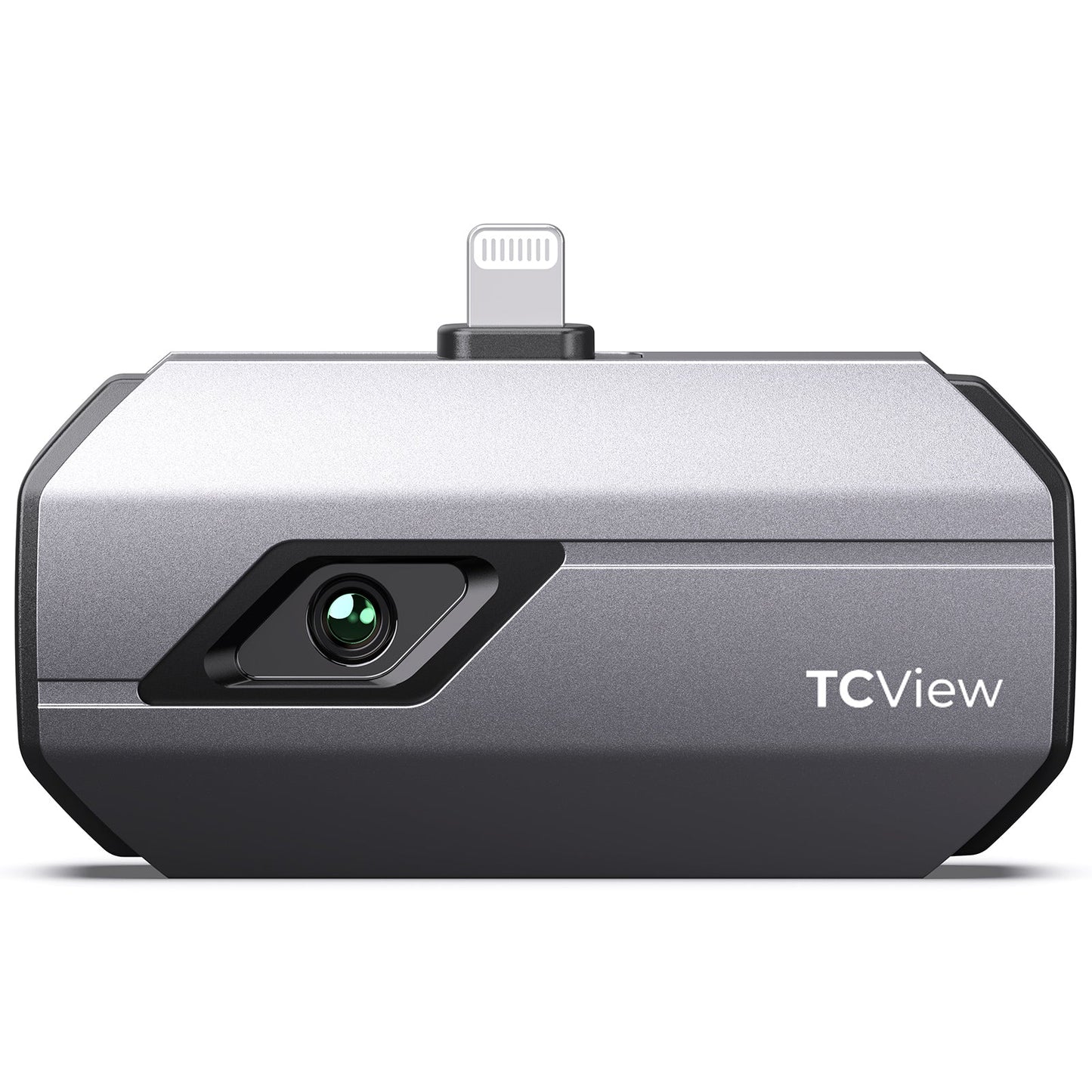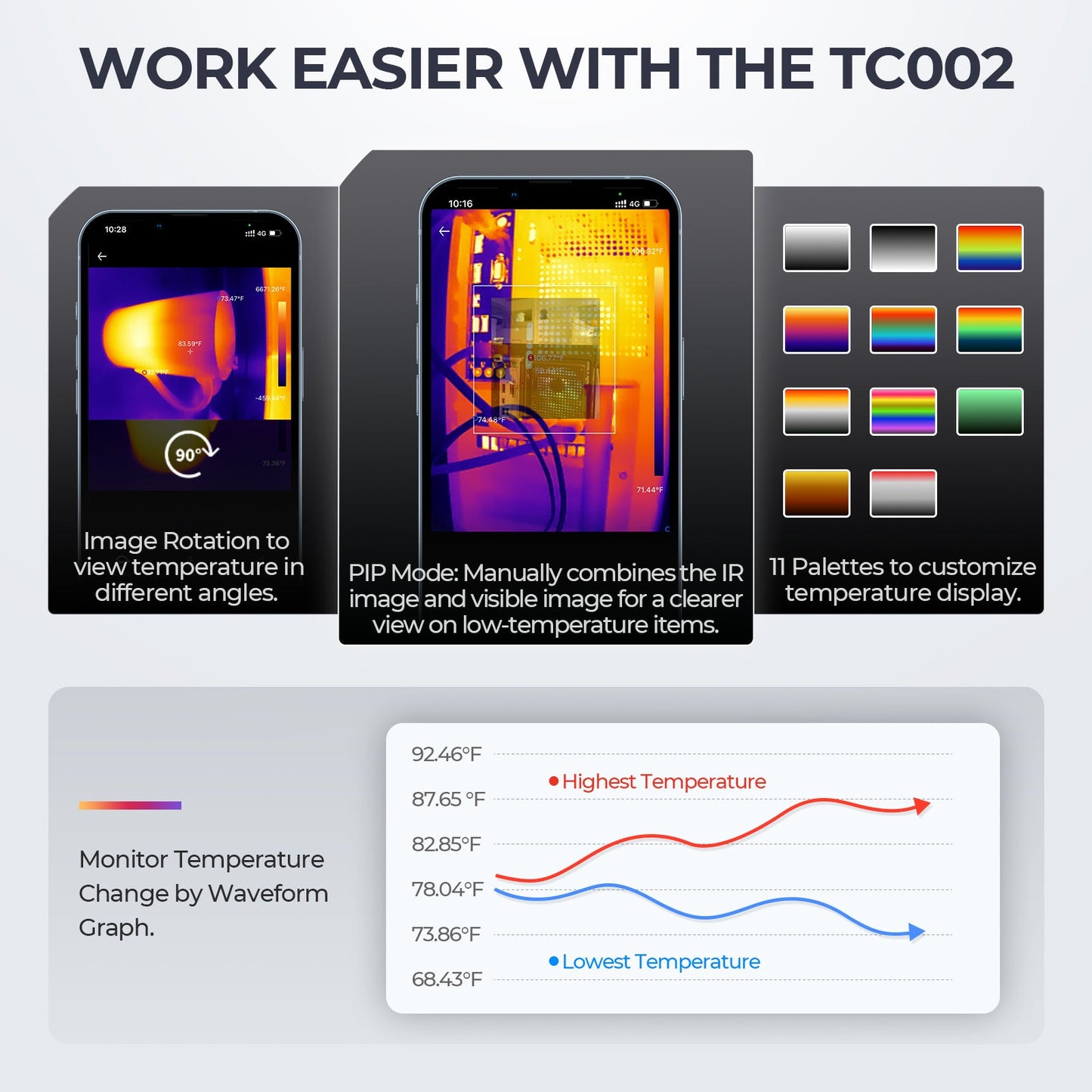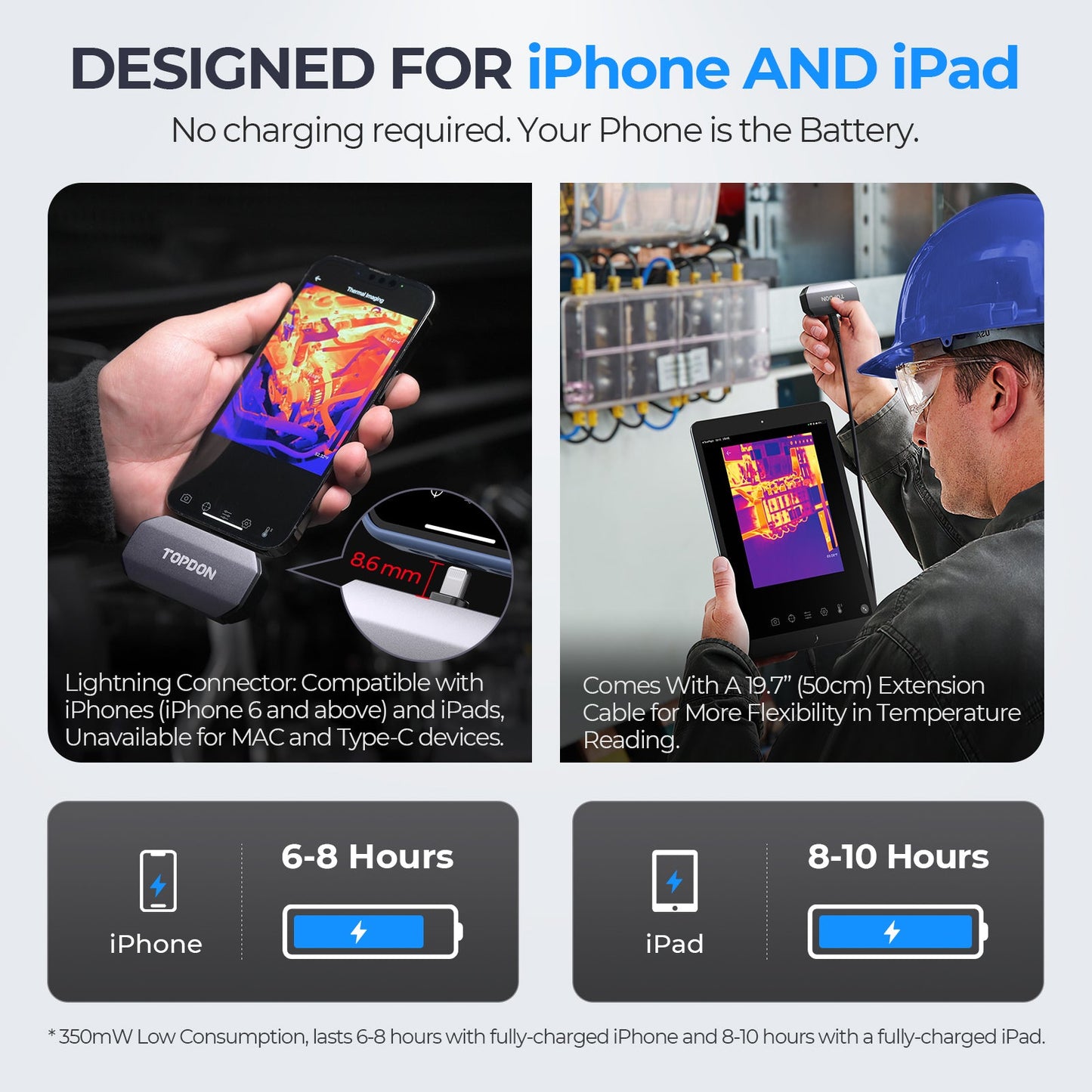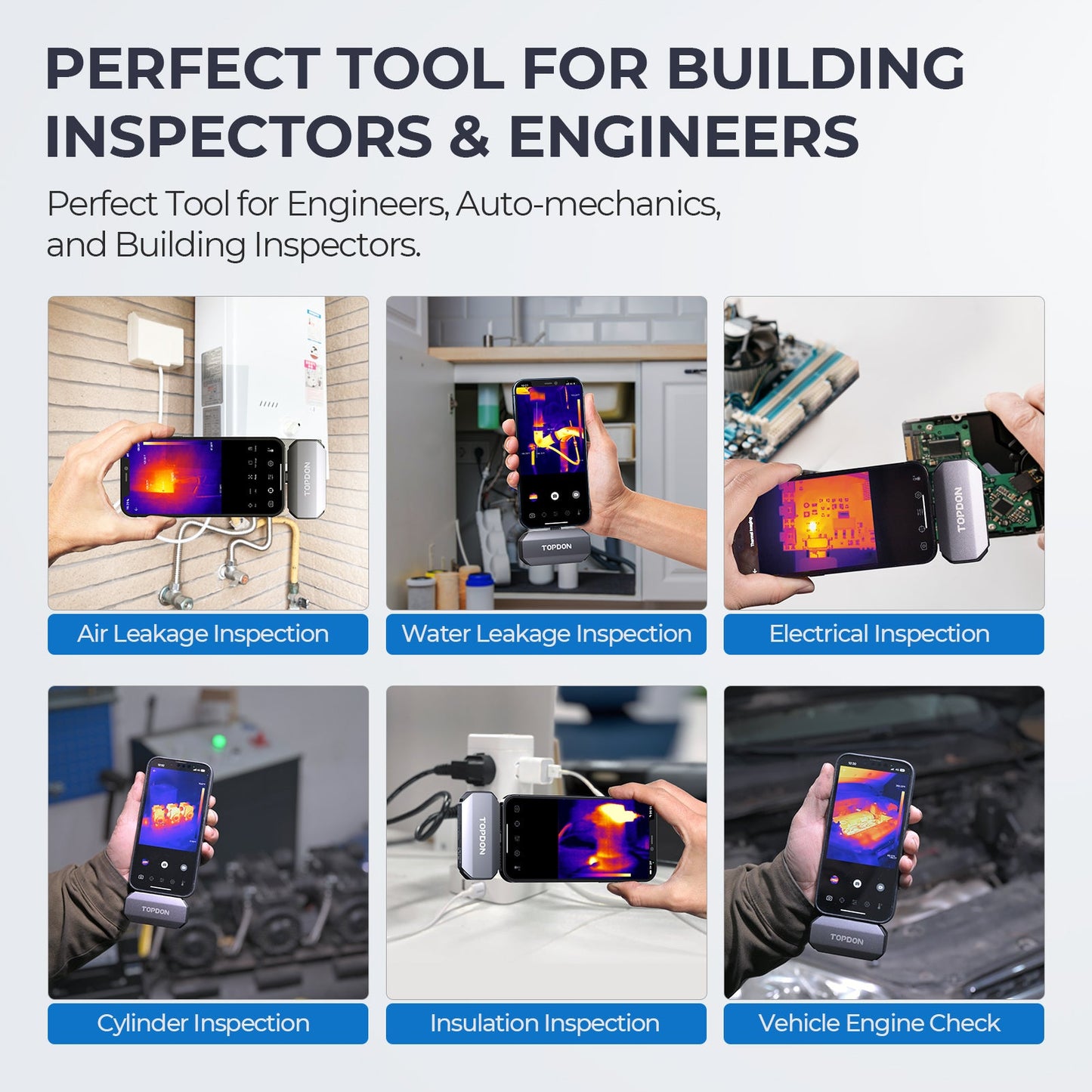 All the details
Features

UNLIMITED ACCURACY, UNLIMITED CLARITY

The TC002 boasts a high-resolution of 256 x 192 pixels, providing clear and detailed thermal images of your target. Its high accuracy and clarity make it perfect for objects where surface temperature is difficult to distinguish.

BUILT FOR MOBILITY

The TC002 is compact and lightweight, measuring 2.8 inches by 1.65 inches by 0.55 inches, and weighing just 30 grams. Its portable design makes it easy to pair with iPhones and iPads, and the rugged aluminum case provides protection against drops, ensuring you can monitor temperature anywhere, anytime.

LOWER CONSUMPTION, LONGER BATTERY LIFE

The TC002 connects to your iPhone or iPad and is powered by the device; eliminating the need for a separate power source.
Its low power consumption of 0.35W ensures longer battery life, with 4-7 hours of usage on devices with a 3000-5000mAh battery.

IMPROVED TEMPERATURE RANGE AND ACCURACY

The TC002 boasts a wide temperature range of -4°F to 1022°F (-20°C to 550°C), making it suitable for temperature readings on a variety of objects. It also boasts improved accuracy, with a variance of ±3.6°F (2°C) or 2% of the maximum temperature, and a temperature measurement accuracy of 0.1°F (0.1°C).

EXTENSIVE APPLICATIONS

The TC002's precise temperature measurement capabilities make it an ideal tool for a variety of industries and applications. It allows for safe temperature readings from a distance; making it suitable for home inspectors, HVAC technicians, electricians, automotive technicians, and even farmers looking to monitor crops and livestock.

THERMAL IMAGE WITH MORE DETAILS

Three Temperature-Reading Dimensions:
With the TC002 App, users can manually select from three different dimensions to check temperature: Point, Line (with highest and lowest readings), and Surface (with highest and lowest readings).
Multiple Color Palettes:
The TC002 offers 11 unique color palettes, allowing users to customize their temperature display to their preferred gradient colors.
Image Enhancement:
Users can adjust the sharpness and contrast of the thermal image to achieve a customized view.

ADJUSTABLE TEMPERATURE RANGE

Featuring a DIY temperature range feature, the TC002 allows users to set maximum and minimum temperature limits. If the object temperature exceeds these limits, the camera will display corresponding color images, making it easier for users to understand and visualize the temperature of the target area.

INTUITIVE AND GRAPHICAL WAVEFORM

The TC002 thermal camera can take continuous temperature readings and store the data in its accompanying app. This data can then be used to calculate the high, low, and average temperatures of objects within its field of view over a certain period of time; allowing users to visualize the data in the form of a waveform graph.
Technical Specifications

Spectral Range: 8~14μm
Resolution: 256×192 Pixels

Pixel Size: 12μm

NETD: <40mK @25°C

Frame Rate: 25Hz

Object Temperature Range: -20~150°C (-4~302°F), 150°C~550°C (302~1022°F)

Accuracy: Maximum Temperature Variance of 2°C, right down to the 0.1°C

Weight: 30g

Dimension: 71*42*14mm (2.80*1.65*0.55 inch)

Cable Length: 50cm (19.69 inch)

Operating Systems: Compatible with iPhone & iPad
What's in the box

TC002 Thermal Imaging Camera
Carrying Bag
Multifunctional Adapter Cable
Package Box
Quick User Guide
Cleaning Cloth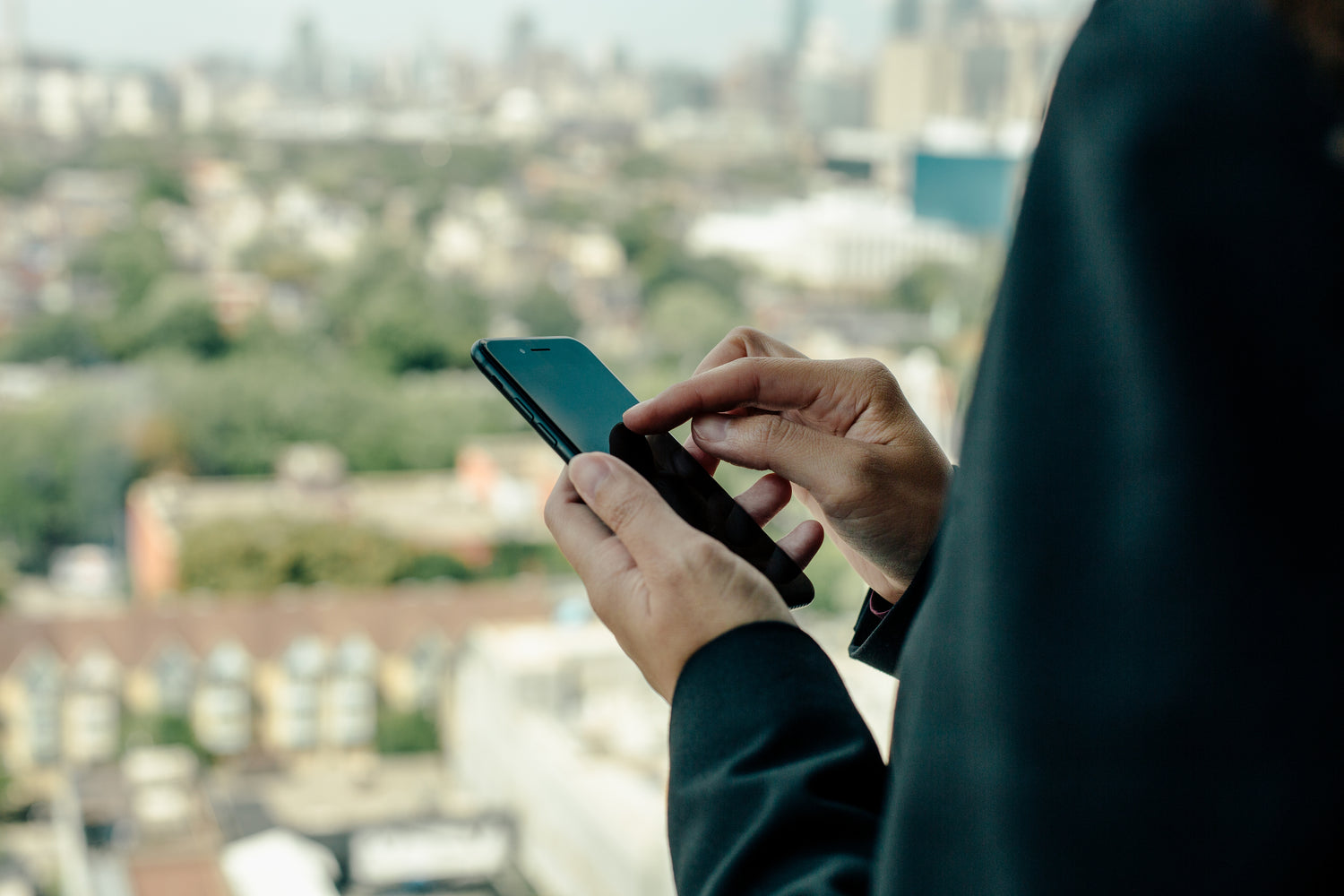 Find Hot and Cold spots with ease
Add the power of thermal imaging to your smartphone. The possibilities are endless.
Free Shipping

All of our Professional Scan Tools include free standard shipping.

Hassle-Free Exchanges

Purchase with confidence. Exchanges allowed in the first 30 days. Contact us for details