Regular price
$599.00 USD
Regular price
$659.00 USD
Sale price
$599.00 USD
Unit price
per
Sale
Sold out
TOPDON's PulseQ is the first of TOPDON's EV charging stations. Offering versatility, adaptability, and smart technology to users, the PulseQ makes EV charging widely accessible. It's compatible with most American AC electric vehicles because of the SAE J1772 (Type 1) plug, eliminating most brand barriers to electric vehicle owners. The compact design and multiple mounting options save space in garages and can even be mounted outside to take up no interior space. The charging station's interface can be accessed and adjusted through an app to set charging sessions during off-hours and to monitor the charging process. A required NEMA14-50R outlet hookup for the PulseQ ensures high-performance vehicle charging.
Share
View full details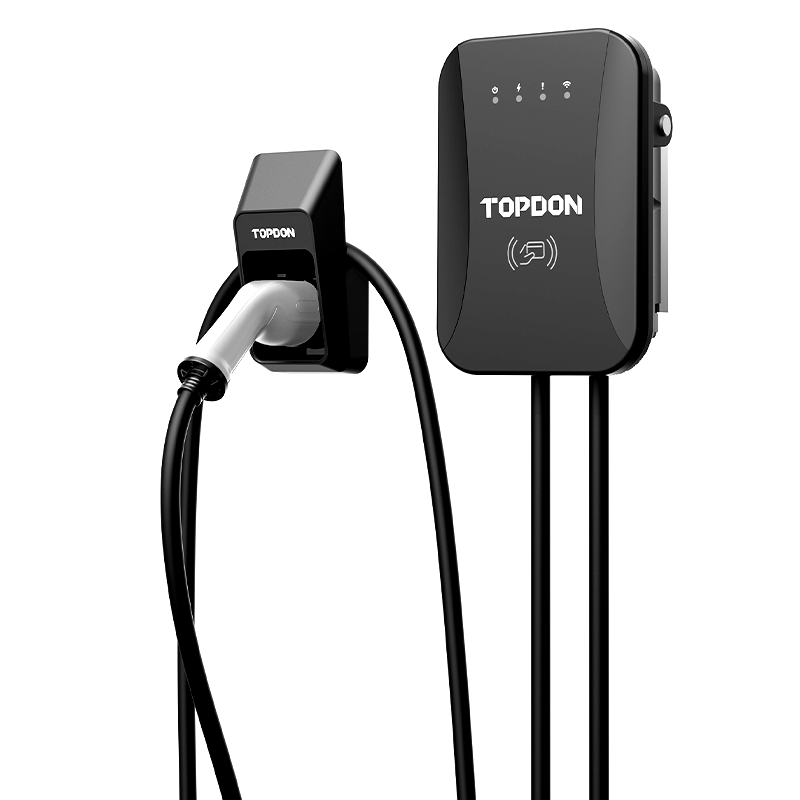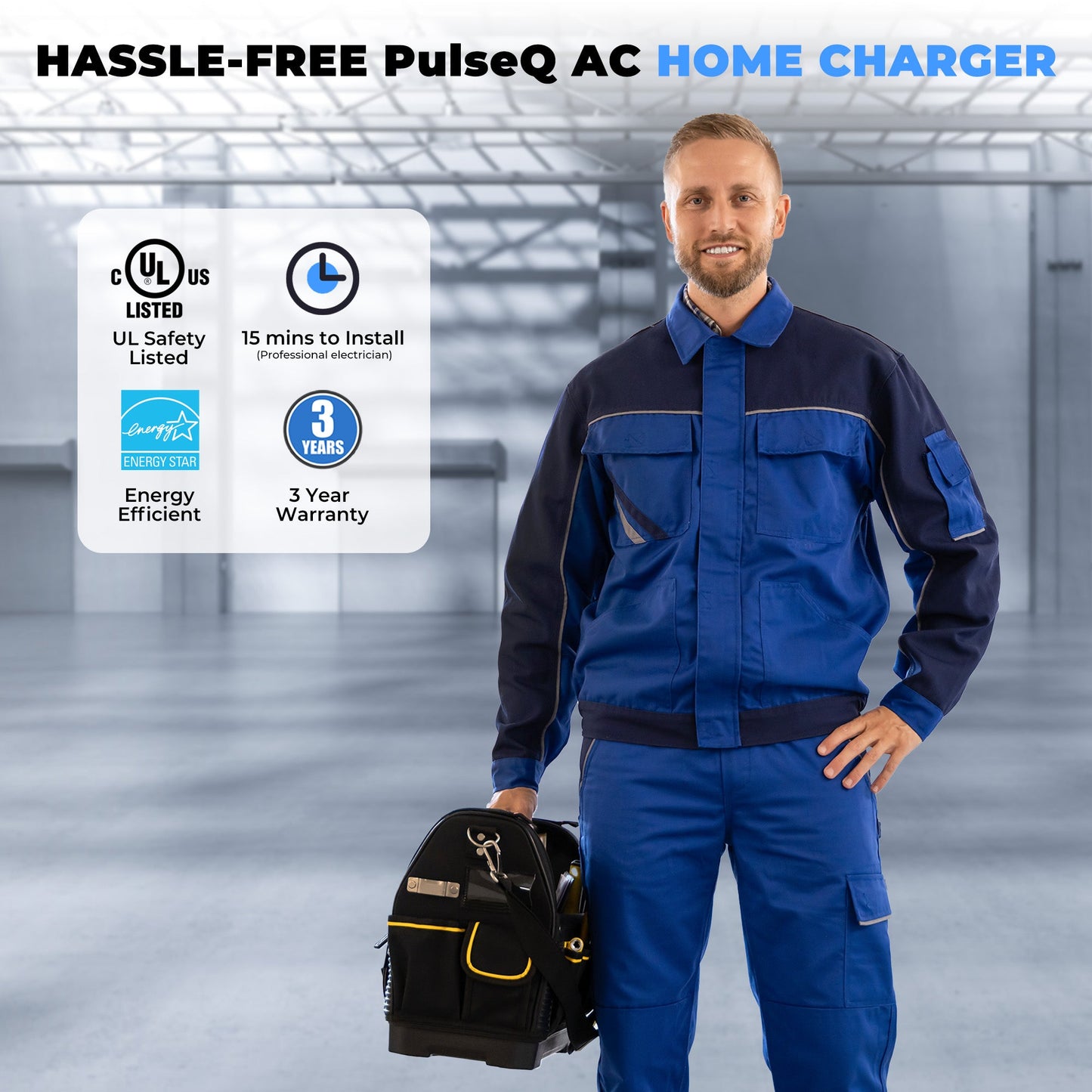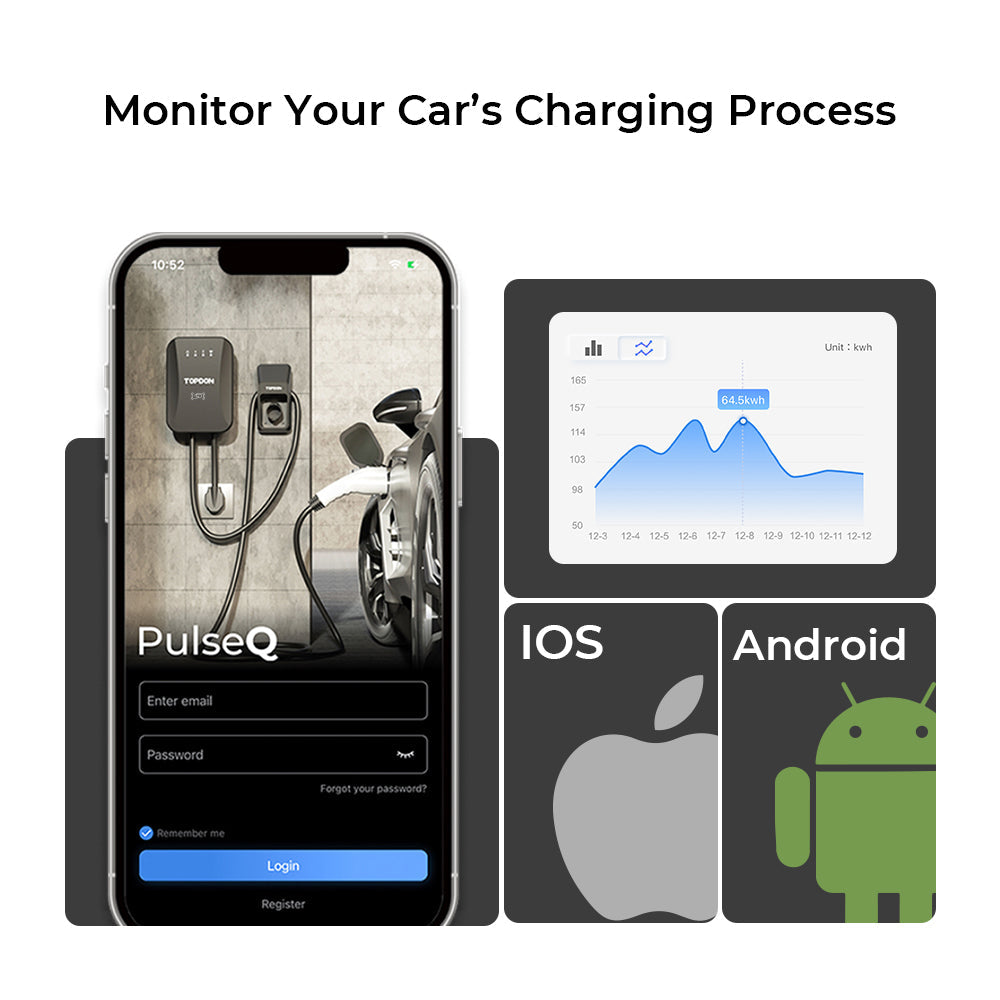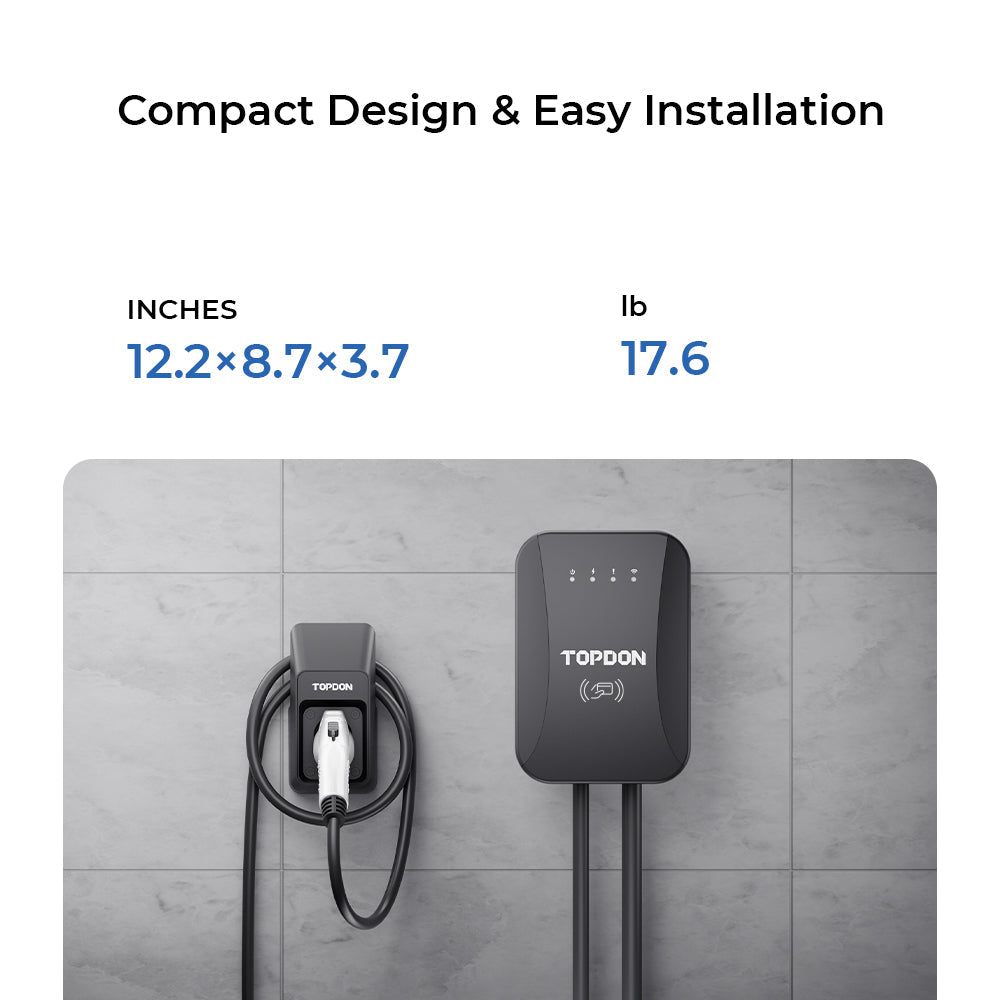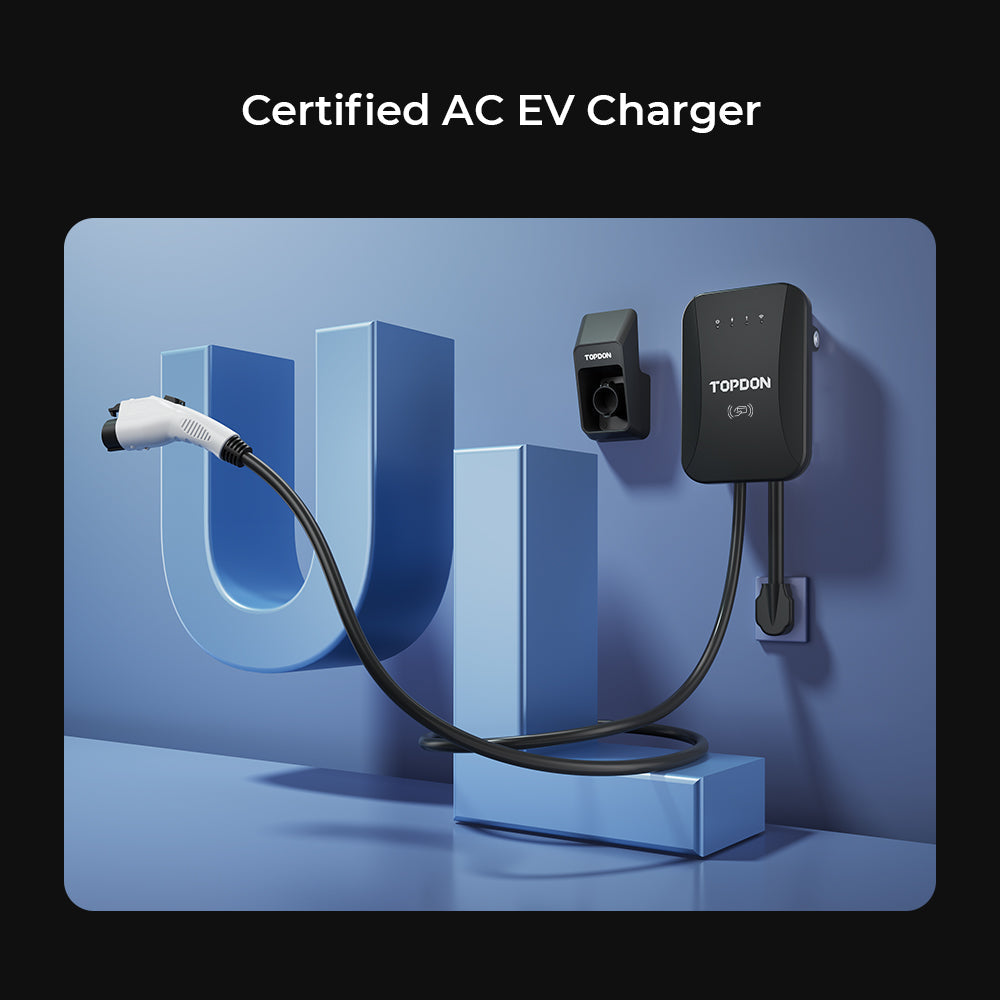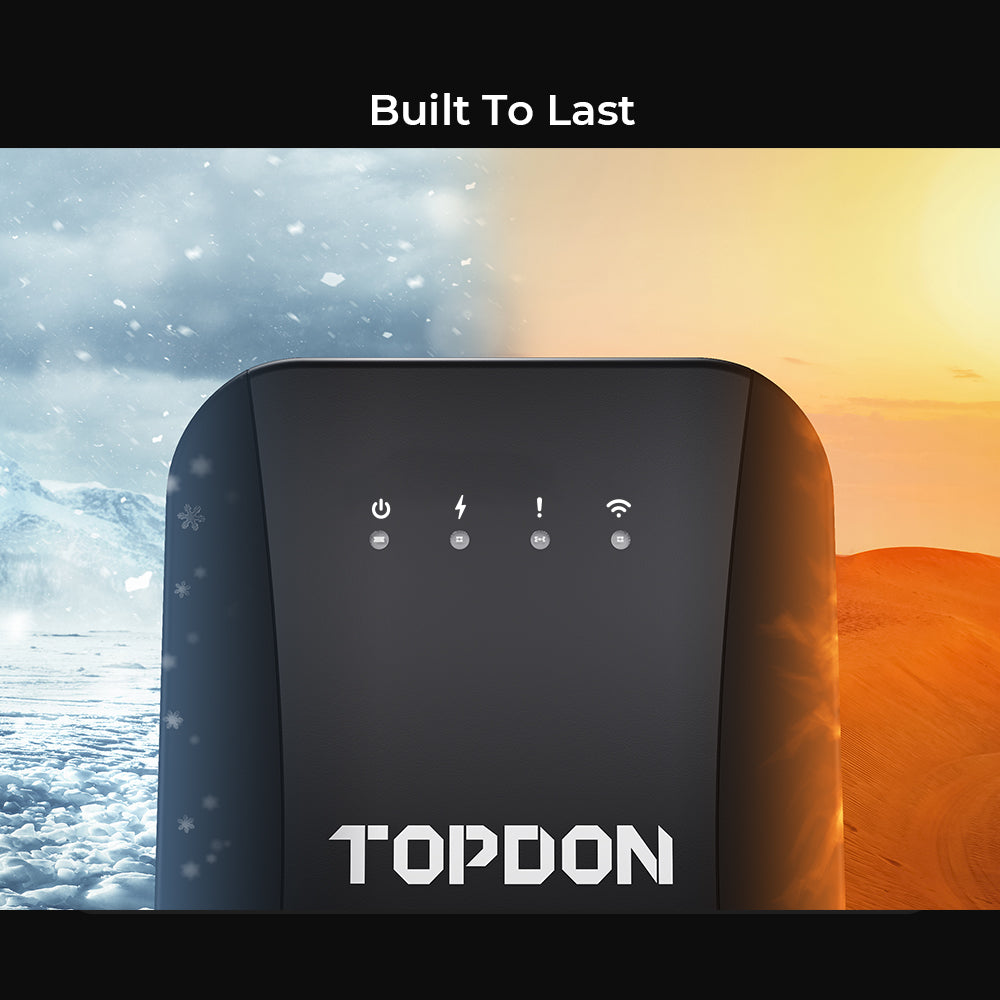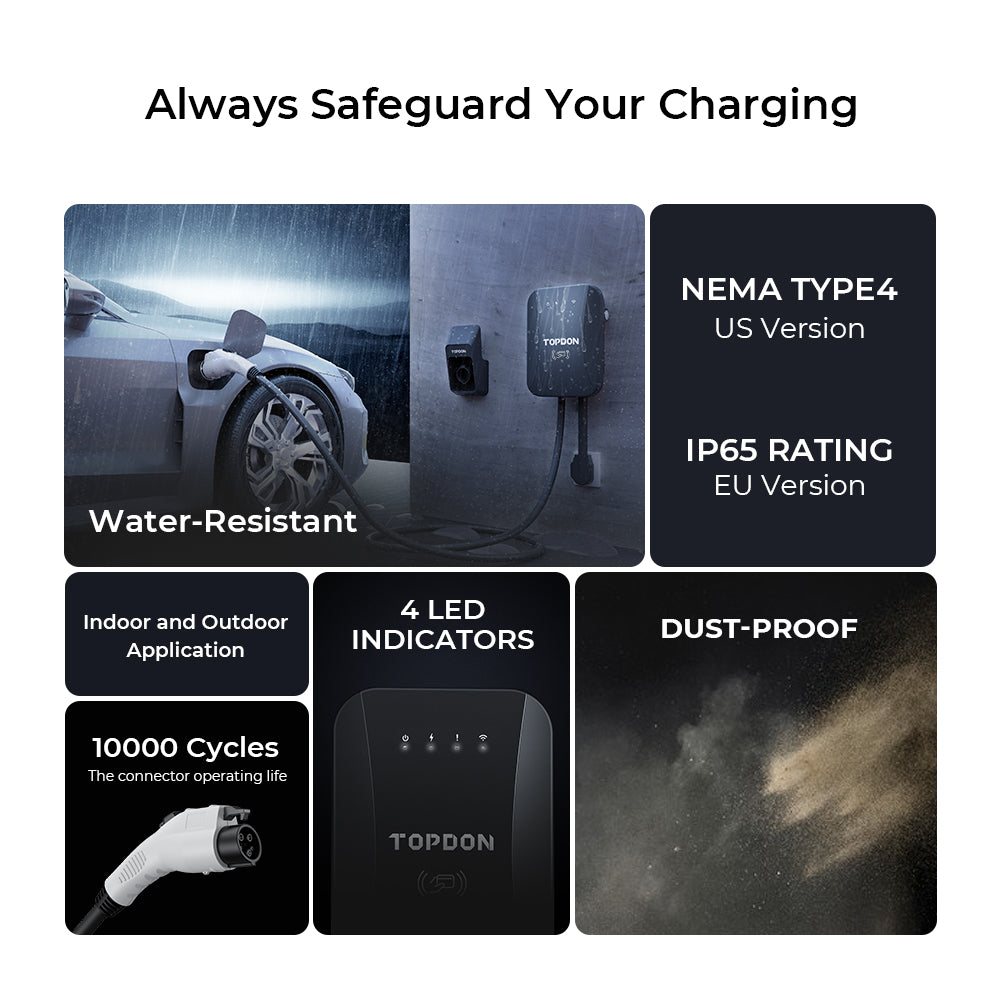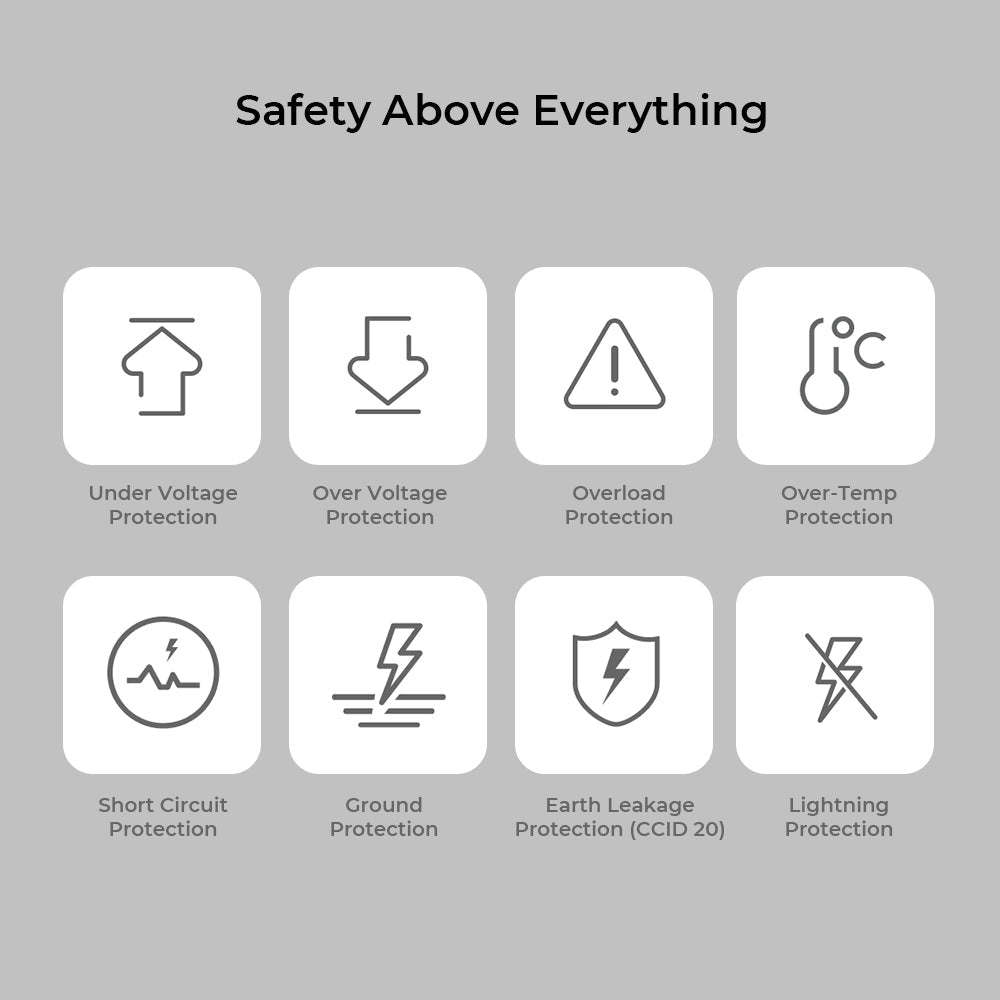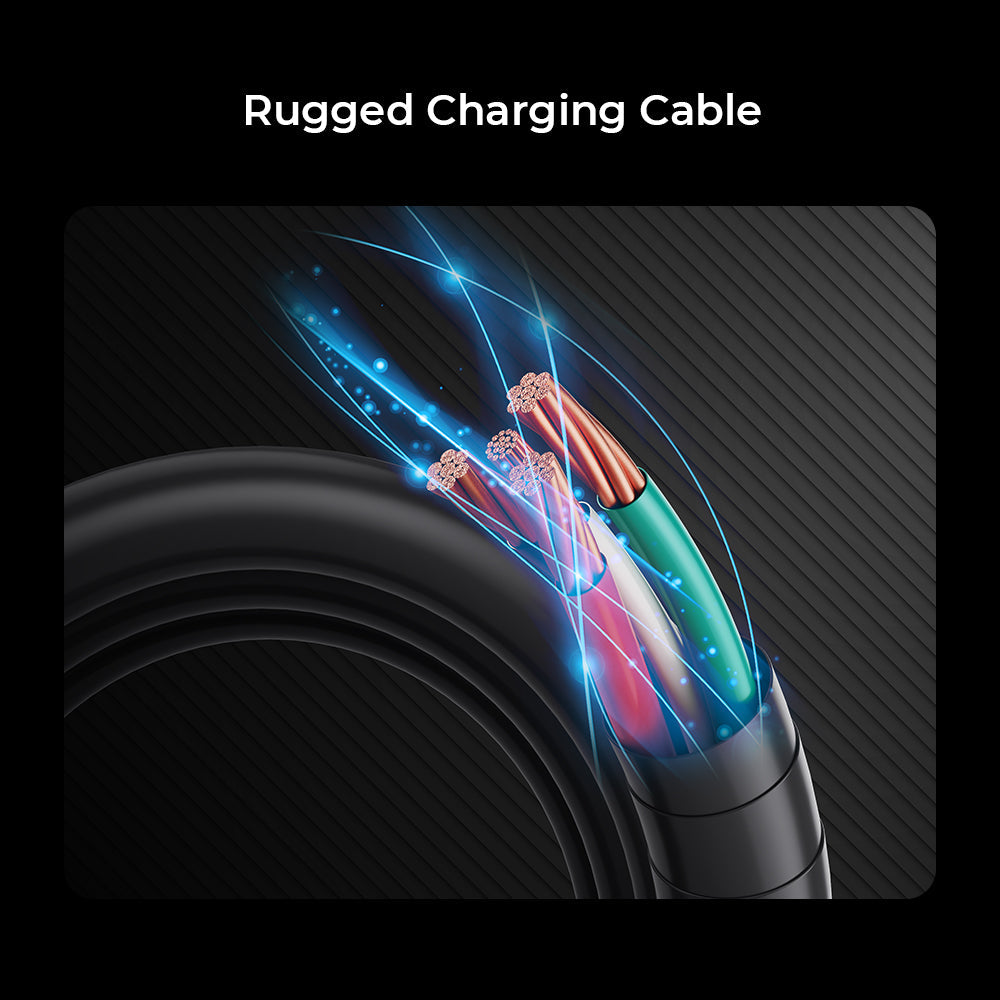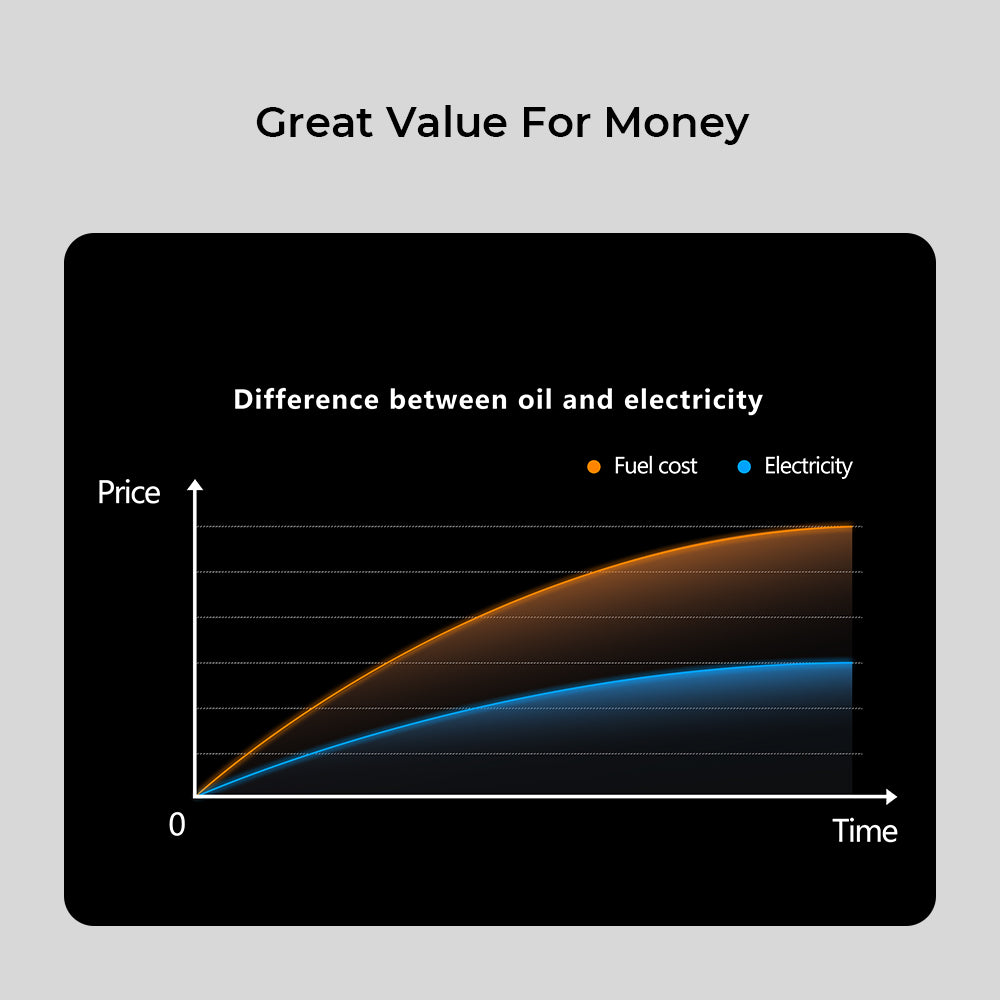 All the details
Features

Expanded Compatibility With SAE J1772 (TYPE1) Connector

Using a standard J1772 connector, the PulseQ allows for wide compatibility with electric vehicles with American standard AC charging interfaces or plug-in hybrid vehicles.
Coverage includes Tesla (adapter needed), Ford, GM, Volkswagen, Nissan, Audi and more; perfect for users that own more than one electric vehicle.

Level 2 Charger with UL Certification

The U.S spec PulseQ is a UL listed EV charger; meeting national safety standards with respect to design, performance, and installation.
Equipped with a NEMA 14-50 plug, this Level 2 240V home charger can work more efficiently than the level 1 charger as it will provide faster charging.

Work Easier with Intuitive App

Using the PulseQ's compatible smartphone app; schedule charging times, check charging milage and cost, get fully charged notifications and adjust the charging current.
With administrator permissions (the first registered user) the PulseQ can be operated by more than one person simultaneously.

Plug-and-Play & App Control

The App controlled charging mode allows users to set charging times, adjust charging current, as well as track charging status; all on a smartphone. With Plug-and-Play mode, charging begins as you slot the charger into the vehicle;  stop charging by pressing the button on the side of PulseQ to pull out the charger.
The smart design will automatically switch into Plug-and-Play mode and continue to charge your vehicles if the App loses connection with the charger.

Compact Design & Easy Installation

Compact design and easy installation make the PulseQ a great option for those who want to install an electric vehicle charging station at home. Easily mount the charger on a wall or pole. The PulseQ can even be mounted outside.
If an NEMA14-50R outlet is installed and Wi-Fi connected, the charging station can be easily installed in 15 minutes.

Built to Last

The PulseQ is made of flame-retardant materials and is packaged in a dust-proof and water-resistant case that's built to NEMA TYPE 4 standards; suitable both for indoor and outdoor application, and backed by the TOPDON 3-year warranty. The connector operating life is up to 10000 cycles.
Equipped with a 16.4ft rugged charging cable made of PVC and copper, which can accommodate up to 40A. The charger can be saved in the socket when not in use; coil the charging cable and hang it over the socket for storage.  ​

Safety Above Everything

The PulseQ is equipped with multiple safety features to ensure safety under any circumstance.
Safety features include Under Voltage protection, Over Voltage protection, Overload protection, Over-Temp protection, Short Circuit protection, Ground protection, Earth Leakage protection (CCID 20), and Lightning protection.
Technical Specifications

Charging Mode: App-Controlled/Plug-and-Play/RFID mode
Indicator Lights: 4 LED Lights: standby, charging, fault, and network
AC Power Input/Output Voltage: Level 2 AC-208-240V
Adjustable Current: 6-40A
Rated Frequency: 50/60 Hz

Plug: NEMA 14-50

Connector Type: SAE J1772 (Type 1) 

Box Dimensions: 12.2 x 8.6 x 3.7 inches (310 x 220 x 95 mm)

Standard Cable Length: 16.4 ft. (5 m)

Optional Cable Length: 24.6 ft. (7.5 m)

Weight: 15 lbs. (7 kg)
Working Temperature: -22 ~ 131℉ (-30 ~ 55℃)
Storage Temperature: -40 ~ 167℉ (-40 ~ 75℃)
Enclosure: PC + ASA
Cable: PVC + Copper
What's in the box

AC EV Charger (14-50P input power cable & 5m or 7.5m charging cable)
Charging Dock
Wall-mounting Accessories
User Manual
Quick User Guide
Quality Certificate
Wall Installation Template
M6×63mm Expansion Bolt
M5×40mm Expansion Bolt
Charging Dock Installation Template
IC Card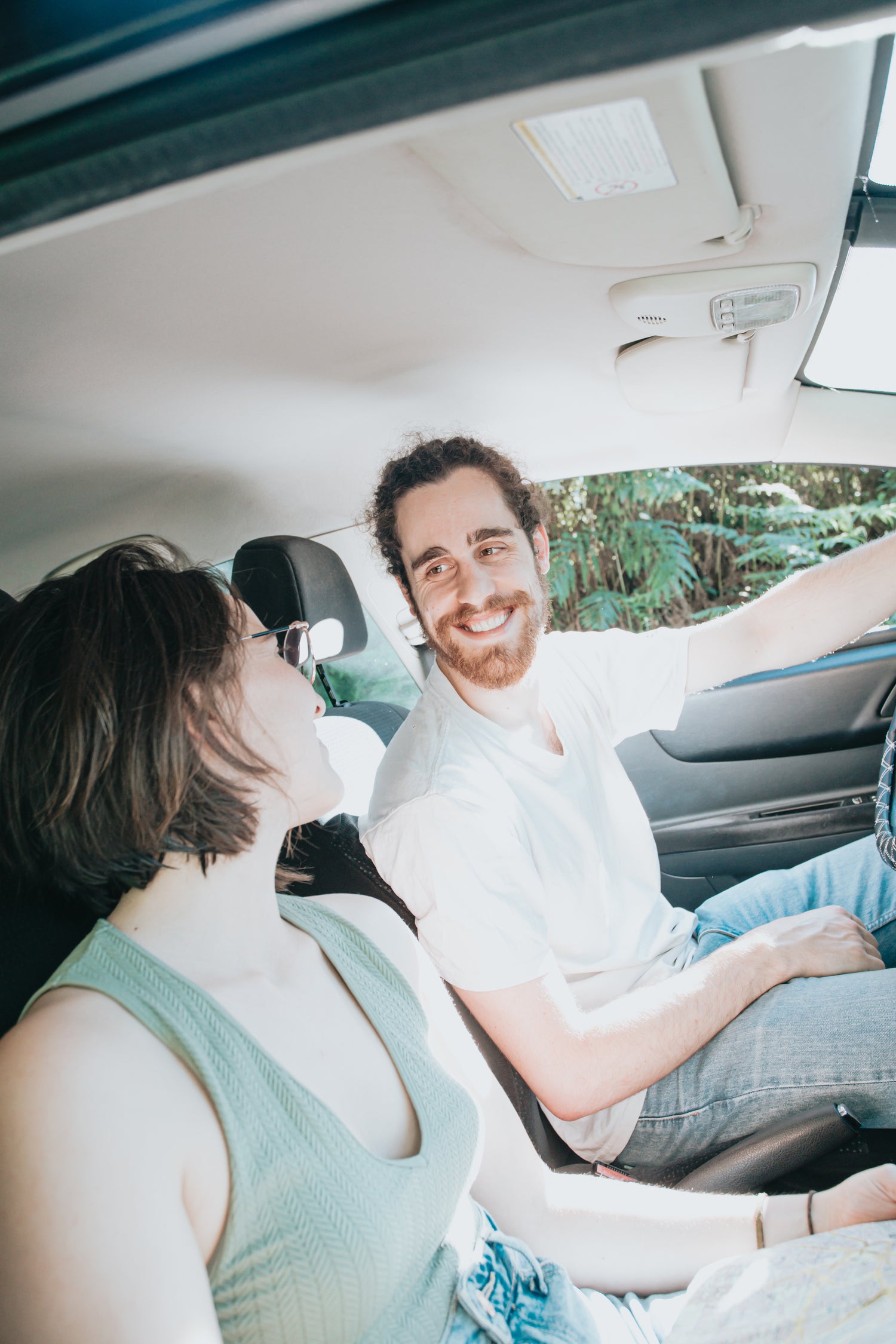 Charge your EV no matter the manufacturer
It's compatible with most electric vehicles sold in America because of the SAE J1772 (Type 1) plug.
Free Shipping

All of our Professional Scan Tools include free standard shipping.

Hassle-Free Exchanges

Purchase with confidence. Exchanges allowed in the first 30 days. Contact us for details